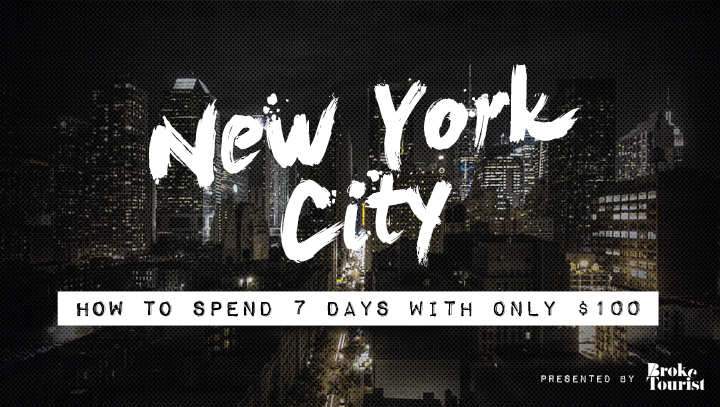 "New York, I love you but you're freaking me out." – LCD Soundsystem
Many budget-conscious travelers would agree with singer James Murphy. In 2013, New York City ranked as the 4th most expensive city in the world for tourists. So should those traveling on the cheap just skip this city altogether? What if I told you that you can spend 7 days in NYC for $100? You'd call me crazy and I'd prove you wrong. Here's the gameplan:
---
Prior to Arrival
Sorting out your accommodation
In NY, the cheapest accommodation in a hostel alone can easily cost $50/day. Not good for our $100 budget. However, if you plan well and plan smart, it's do-able. Couchsurfing is a community of travelers that do hospitality exchange. Meaning, you can request to be hosted for free during your time in NYC. Naturally, it may be a bit hard to find a host in NYC since it's one of the most popular tourist destinations in the world. But if you're already an avid couchsurfer with plenty of good references, or you have an awesome profile, you stand more of a chance.
Let's say, hypothetically, you manage to arrange a host for 5 nights. You aren't sure yet where to stay for the other 2 nights – but you're just going to wing it. Why not? Life is all about adventures!
Also, there are a few things to know about NYC that will help stretch your budget even further. First, tap water is safe to drink and actually tastes good. Bring your own bottle to avoid paying for bottled water. If you eat in a restaurant, you're entitled to ask for free glasses of water if you're not already offered. However, with your tight budget, I don't suggest restaurants anyway since they require a 15%-20% tip. Grab your food to go and eat in a park. It's better for people-watching as well.
BUDGET SPENT ON ACCOMMODATION: $0

---
Day 0 – Sunday (Arrival)
First things first, what to do when you land at John F. Kennedy airport
There are two ways to get to town from the airport using public transportation. One is to take the AirTrain ($5.00) then connect to the subway ($2.50). The other is to take the Q10 Bus ($2.50) then connect to the subway (free transfer). Since we're roughing it out here, we're going with the second option.
The Q10 bus originates/terminates at Terminal 5 at JFK airport. If you arrive at any other terminal, catch the free AirTrain to the Terminal 5/6 stop for free. The Q10 Bus will bring you to the Kew Gardens/Union Turnpike subway station where you can catch a free transfer to the E train. Once you're on the subway, you can basically get anywhere in NYC at no extra charge.
If couchsurfing, arrive in the evening or on the weekend, because chances are your host works during the day on weekdays. Arriving at a convenient time will prevent having to lug your backpack around the city, waiting for your host to get off work.
BUDGET SPENT FOR THE DAY: $2.50 (Transportation)

---
Day 1 – Monday
Getting around New York City + Exploring Downtown Manhattan
If your accommodation is in Manhattan, and you're staying strictly around Manhattan, you might get away without paying for transportation. If your host lives in any other boroughs of NYC though (Brooklyn, Bronx, Queens, Staten Island), it will be close to impossible to do without the city's subway system. A 7-Day Unlimited Ride Metrocard costs $30.00 (available at all subway stations). I know what you're thinking. $30?!! That's huge given our $100 budget. But I promise you, this is the biggest chunk of change you'll have to shell out while here.
Metrocard now in hand, you're ready to explore. Waste no time and head to what's perhaps the top of the must-see list – the Statue of Liberty. For the best photo op, hop on the free Staten Island Ferry. The Staten Island Ferry is essentially a free ferry provided for residents of Staten Island to reach Manhattan. It won't let you disembark at Liberty Island or get into the statue like the much pricier tourist boats. But honestly, by the time you're on the island you're too close to capture the statue in its entirety anyway. And the line to get into the statue is agonizing. By riding the ferry, you'll get close enough to snap a photo of the statue not only once, but twice! Once you get to Staten Island, you'll hop off the boat, make a U-turn and hop back on the next boat to make your way back to Manhattan. What's in Staten Island, you wonder? Nothing much at all, nothing much.
While you're in the neighborhood, there are a few free museums and landmarks to visit: Battery Park, Castle Clinton, The National Museum of the American Indian, Charging Bull, NY Stock Exchange, and Federal Reserve Bank.
A few evening activities to consider: Visiting South Street Seaport and then Chinatown for a super cheap eat at Prosperity Dumpling. You'll get 4 freshly-made dumpling for a buck. If you're visiting during the summer, catch a free outdoor movie at Bryant Park Summer Film Festival. If you're the adventurous or curious type, join a NYC Freegan meet-up and dumpster dive (bi-weekly). This last suggestion will not only introduce you to the culture of Freeganism, but can score you free food that may last a few days or even a week!
BUDGET SPENT FOR THE DAY: $30.00 (Transportation), $3.00 (Food)

---
Day 2 – Tuesday
Brooklyn – don't fuhgeddaboutit!
From 10am to noon every Tuesday, Brooklyn Botanic Garden offers free entry (regular admission $10). This 52-acre garden includes a number of specialty "gardens within the Garden," from a Japanese garden to a Rose garden to a Shakespeare garden. It's a good place to soak in some morning sun to start off the day.
Since you're already in the borough of Brooklyn, you may as well plan your day around it. Next to the Brooklyn Botanic Garden is the Brooklyn Museum. While the Brooklyn Museum offers free entry on the first Saturday of the month, it probably doesn't fit your schedule. Besides, the $12 general admission is actually a suggested contribution amount (this is true of many NYC museums). So yes, you can choose to contribute $1 if you wish.
Once you're done getting cultured, head over to Brooklyn Heights Promenade for a spectacular view of the Manhattan skyline, Statue of Liberty, Manhattan Bridge and Brooklyn Bridge. Walking north along the promenade (towards the Brooklyn Bridge) will lead you to many interesting spots including Brooklyn Bridge Park (plenty of public art and free activities. From boating to outdoor yoga classes during the summer) and DUMBO (cobblestoned streets with quaint stores and coffee shops).
To get to Manhattan after a day of exploring Brooklyn, walk your way back over the Brooklyn Bridge. This famous landmark spans the East River, connecting the two boroughs. The wooden pedestrian walkway allows a pleasant stroll. Make sure you make it to Manhattan at around 4pm so you can head to 9/11 Memorial and 9/11 Museum. Entry for the museum is free on Tuesday after 5pm on first-come, first-served basis (unless you've reserved online in advance).
A few evening activities you should consider: Grabbing $3 Falafel at Mamoun's Falafel (one of the best in NYC) in NYU students' hang-out neighborhood of St. Marks or visiting High Line Park (closes at 7pm during winter) and joining its free Tuesday stargazing session (available during the summer).
BUDGET SPENT FOR THE DAY: $1.00 (Attraction), $3.00 (Food)
'
---
Day 3 – Wednesday
Flora + Fauna + Baseball VS. Beach + Boardwalk + Amusement?
If you failed to visit the High Line Park the day before (maybe because of the winter early closing time), it's probably a good idea to start the day with it. Built on a former elevated railroad, the High Line Park features a promenade that runs about 20 city street blocks, starting from the hip Meatpacking District and passing through the second floor of the Chelsea Market. Chelsea Market is a haven for foodies. While most eateries here are pricey, it's unfair to suggest you visit the market without tasting anything. Here are a few cheaper foods to choose from if you must: Clam Chowder at the Lobster Place ($3.50), Yum Woon Sen Salad at Chelsea Thai ($4.95) or Beef Pie from Tuck Shop ($5.50).
On Wednesdays, entry to the Bronx Zoo and the New York Botanical Garden are free. Both are located in the borough of the Bronx. So although you may have had enough of botanical gardens after yesterday's visit to the one Brooklyn, it probably worth dropping by anyway after checking out the Bronx Zoo (one of the world's largest metropolitan zoos.) Every Wednesday, the zoo offers pay-what-you-wish entry. For our case, it translates to $1.00 as opposed to the suggested $16.00.
Sports fan, especially baseball fan, may be interested in visiting NY Yankees Stadium and catch a ball game. Located in Bronx, it's a good way to end the day with. Tickets may go for as low as $10.00 at StubHub online or if it's a last-minute decision, hit up the scalpers hanging around outside the stadium.
If you're not big into flora, fauna and baseball, instead of visiting the Bronx, consider visiting Coney Island (during the summer). It's beach, boardwalk, and amusement park! A Brooklyn native offers free Coney Island tour if you schedule in advance via email. And for your evening entertainment, check out the best improv, sketch and standup at the Upright Citizens Brigade Theatre. There are shows every night, some are free, and some only cost $5.00 or $10.00.
BUDGET SPENT FOR THE DAY: $5.00 (Food), $10.00 (Attraction)

---
Day 4 – Thursday
Earn back those burnt calories!
Taking a stroll in Central Park and visiting the Metropolitan Museum of Art are tops on the list when visiting the Big Apple. Mind that each of these sites will easily take more than a day to fully explore. I suggest visiting the Met first thing in the morning to maximize your time. The museum's entrance fee is also a suggested donation.
After the Met, head over to the American Museum of Natural History (suggested donation) by cutting through the Central Park from the east to the west. Entering the park from E. 79th Street will bring you straight to the heart of Central Park. On you north, you'll find The Great Lawn and on your south, the Belvedere Castle (highest point of the park; free entry), the Turtle Pond, Bethesda Fountain, the Alice in the Wonderland Statue, Strawberry Fields, any many others.
It's easy to get lost in Central Park but that's part of the fun. You'll probably exit the park on the west side either at W. 77th Street or W. 72nd Street. The first one is basically where the American Museum of Natural History is located. If you happen to exit at W. 72nd Street (via the Strawberry Field), take a note of the corner apartment building – the Dakota. It was the home of John Lennon, and was the location of his murder in 1980.
Nothing is more rewarding than a massive slice of pizza after a full day of walking. When I say massive, it is MASSIVE. Koronet Pizza offer their oversize slices – double the size of your head – for $3.75 each. There is so much grease on the slice, it seep its way through the paper plate and slithers onto the floor. But hey, you deserve it!
So, it's your fourth day in town and I haven't suggested a single drop of alcohol. Why? Because it's expensive. Duh! But if you must – to wash down the grease – I suggest you join the NYC Couchsurfing Meetup. The Couchsurfing communities around the world tend to have locally arranged scheduled meetings. NYC has one as well. The group meets every Thursday evening from 8pm – 1am at a local bar. At a regular meetup, expect to find about a hundred couchsurfers – locals and tourists alike. A pint of beer goes for $4.00 (don't forget to tip your bartender $1.00).
I recommend having your drink at the meetup, instead of any other bar, because it's a good opportunity to socialize with other couchsurfers. Just to remind you, hypothetically, this is supposed to be your last night "surfing" with your current host. Getting to know local Couchsurfing members may land you a last-minute place to stay for your remaining time in NYC. How plausible is it? Let's say 50/50. I'm aiming really high since I believe you have a wonderfully charming personality. Besides, if you fail, there's always the option of Sleeping in Airports.
BUDGET SPENT FOR THE DAY: $2.00 (Attraction), $3.75 (Food), $5.00 (Booze)

'
---
Day 5 – Friday
Manhattan's symbolic epicenter
Midtown Manhattan in New York City has a myriad of attractions and landmarks. Start your day at Columbus Circle and walk towards and down Fifth Avenue. Here, you will find merchants selling all things fashionable and fancy. Your entire $100 budget for the week will not go far in these stores. However, they aim to impress with their grandeur, so it's worth walking past to windowshop. Sandwiched in between the retail stores is St. Patrick's Cathedral. Entry to this Neo-Gothic Roman Catholic church is free.
From the south corner of the cathedral, head west through 50th Street to explore Rockefeller Center. Around this area, many of Manhattan's famous buildings and statues are instantly recognizable: the Statue of Atlas, the Rockefeller Center's Rink with the golden Prometheus Statue, Radio City Music Hall, etc. For a more obscure find, visit the Nintendo World Store. It offers free gaming fun and a tiny corner featurette on the history of retro Nintendos up through the very latest console.
At noon every Friday, there's a free Times Square Alliance Exposé Tour. The tour leaves from the Times Square Information Center. During the two-hour walking tour, your guide will point out the interesting history behind the places that make up this world-famous intersection.
Once you're done with the tour, it's probably a good time to grab a bite before heading to the Museum of Modern Art. The Famous Halal Guys is where you should eat (price between $4.00 to $6.00). Technically a street food vendor with a cart parked right by 53rd Street and 6th Avenue, the Halal Guys is not your average gyro cart. Not only do they have impostors and media coverage, but somebody was even killed for cutting in line back in 2006! Anyway, satisfy your hunger and get ready to wait in line for the Museum of Modern Art. It's free on Fridays from 4pm to 8pm so expect brutal queueing. Arrive early to maximize your time inside. If you're not too keen on spending much time in the museum, take a quick detour to Grand Central Station and the Chrysler Building. The night is still young on Friday evening. Take the opportunity to check out the local indie music scene in NYC. Oh My Rockness has the most updated listings, some of which are free or under $10.00.
BUDGET SPENT FOR THE DAY: $5.00 (Food), $10.00 (Entertainment)

'
---
Day 6 – Saturday
Other things not to miss
Today's a good day to take a quick walk around the places of interest you've missed so far. Begin with the New York Public Library near Bryant Park. The library is most famous for its Rose Main Reading Room. If visiting a library isn't your idea of a vacation, go instead to Madison Square Garden on 34th Street and walk east from it. You'll pass by Macy's, known as "The World's Largest Store." The window displays along the exterior are especially fascinating during the winter holiday season. Also, snap some photos of the Empire State Building while you're in the vicinity. And no, it's not free to go to the top.
One of the main squares to not miss in NYC is the Union Square. On Mondays, Wednesdays, Fridays and Saturdays, you'll find an open air Greenmarket on the north and west sides of the park. This is the perfect place to sample locally grown and made food. At 2pm, join the free Union Square Walking Tour for more in depth knowledge of this part of the neighborhood. If you're no history buff, swing by Soho or the Lower East Side to get a different feel of the city.
The last museum I suggest you hit up is the Guggenheim. This will bring you back uptown but it's worth it. The museum has a pay-what-you-wish entry fee on Saturdays from 5:45 to 7:45pm. Like anything else "free," expect a queue.
For your evening entertainment, try looking out for free happy hour deals. The site OvertimeNYCprovides an updated guide to bars and clubs that offer free drinks or an open bar if you RSVP. The target demographic is young professionals who work long, hard hours. But hey, you can always dress up and pretend you're one of the yuppies.
BUDGET SPENT FOR THE DAY: $5.00 (Food), $1.00 (Entertainment)

'
---
Day 7 – Sunday
It's a wrap!
Oh, what to do! What to do!! It's your last day in NYC and you still have $13.75 left. Well, not exactly a lot to splurge on, but here's what I suggest:
Head to Brooklyn to check out their Williamsburg Flea & Smorgasburg. You'll find yourself walking amongst the hipsters of NYC in the Williamsburg neighborhood. The market has tons of goods and food vendors for you to spend your remaining budget on.
If your flight schedule allows, swing by the Brooklyn Brewery for their free tour (1pm – 4pm). The tour runs on the hour and lasts for half an hour. While the tour itself is free, you'll need to purchase a beer token ($5.00/ea) to actually try the beer. But what better way to end your $100 7-day trip to one of the world's most expensive cities than to enjoy a pint of locally brewed beer?
BUDGET SPENT FOR THE DAY: $13.75 (Food, Souvenir, Booze)

---

For more free things to do in New York City:
Article by Elys Muda
Photo credit: Paulo Barcellos Jr. (Flickr CC)