Free: All time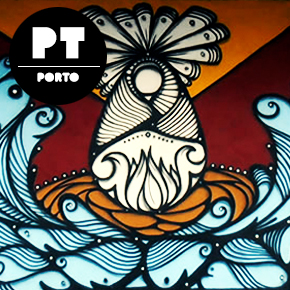 Hazul is a street artist with an amazing talent and probably one of the most well known street artists in Porto. He started on age 16 graffiting his signature but 7 years ago he started to draw abstract shapes, inspired in ancient cultures like Egyptians or Celtics. His drawings can be recognized by their unique geometric shapes, lines and circles. They are amazing!
You can find his work in the narrow streets of Porto's downtown. Just lose yourself on those streets… it's a awesome way to know the 'little villages' inside Porto as well his work.
But that's not all! Since 20 July 2013, the S. Pedro de Miragaia street was transformed in a art gallery and there you can find an exhibition from Hazul named "Florescer" featuring ten original works.
Address: Rua S. Pedro de Miragaia, Porto and all over Porto's downtown narrow streets
Opening hours: All time
Direction: (Miragaia exhibition) Buses 500, 900, 901, 906, 703, 305 (Downtown) Metro São Bento or Aliados stop
Website: www.hazul.pt.vu
Photo credit: Hazul